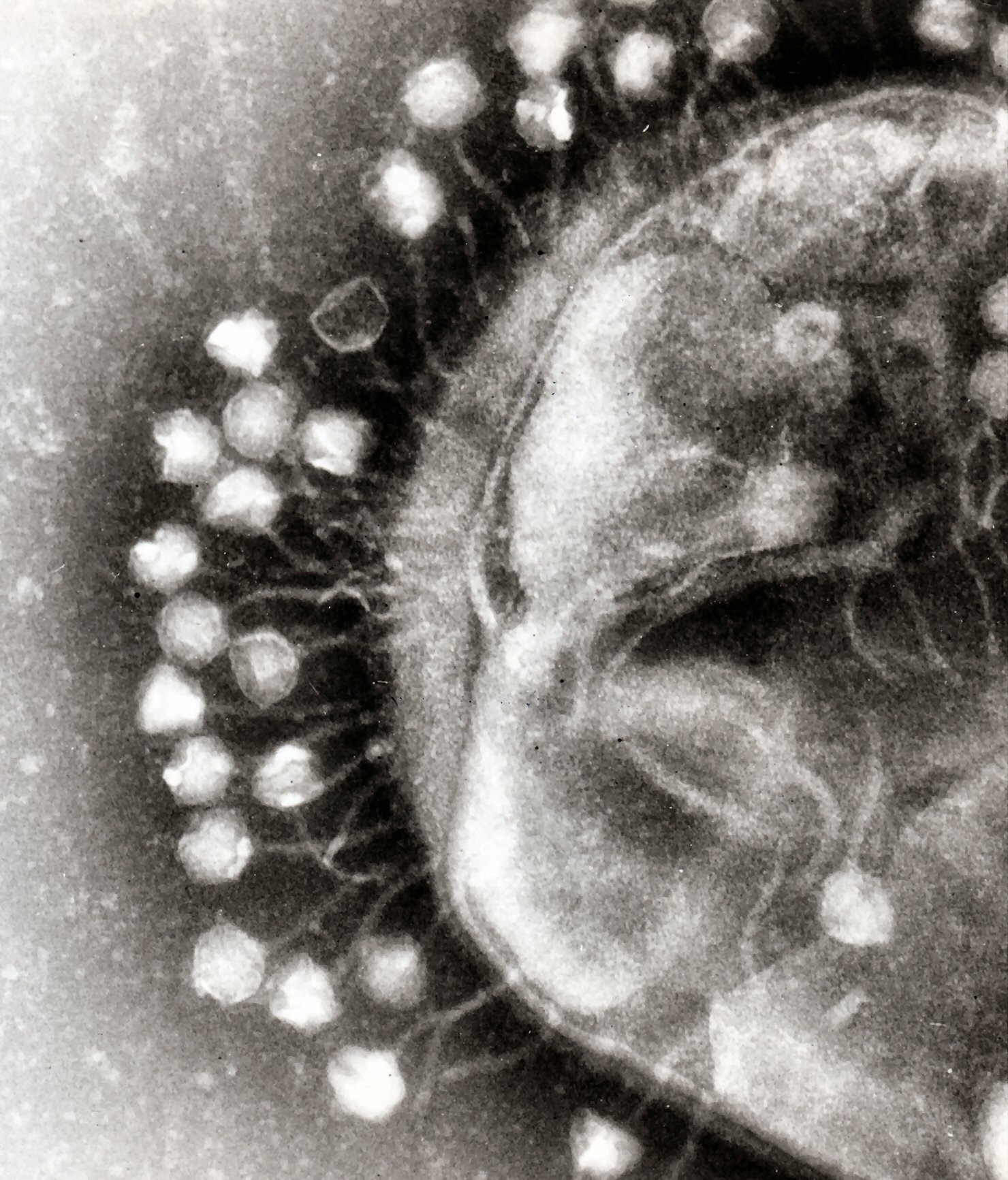 Pictured above: Electron micrograph depicting bacteriophages (left) attached to a targeted bacterial cell. Image courtesy of Graham Beards.
Phages are viral predators of bacteria. They are more abundant than all other life forms on Earth combined and found wherever bacteria exist. Discovered in the early 20th century, they were investigated for their therapeutic potential, but the advent of antibiotics largely ended active research for decades.
 The increasing rise and spread of antibiotic-resistance has revived interest, perhaps most notably in recent years with reports of emerging phage therapies. In 2016, scientists and physicians at UC San Diego School of Medicine and UC San Diego Health used an experimental intravenous phage therapy to successfully treat and cure colleague Tom Patterson, PhD, who was near death from a multidrug-resistant bacterial infection. Patterson's was the first documented case in the U.S. to employ intravenous phages to eradicate a systemic bacterial infection. Subsequent successful cases helped lead to creation of the Center for Innovative Phage Applications and Therapeutics (IPATH) at UC San Diego, the first such center in North America.
 Patients with cystic fibrosis are often plagued by lung pathogens, primarily the bacterium Pseudomonas aeruginosa, whose resistance to current antimicrobial drugs can mean a life of chronic, life-threatening infections.
 In a major advance, an early stage national clinical trial to assess the safety and efficacy of using phages to treat CF patients with P. aeruginosa lung infections has been launched. It is the first trial of its type with major funding from the National Institutes of Health. The trial is co-led by Robert Schooley, MD,  professor of medicine at UC San Diego School of Medicine and an infectious disease expert at UC San Diego School Health who is co-director of IPATH and helped lead the clinical team that treated and cured Patterson in 2016.
 You can read more about the trial here.
— Scott LaFee