Pierre Ouillet, M.B.A
Chief Financial Officer, Health Sciences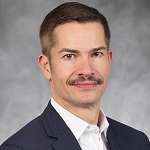 Pierre Ouillet is a vice chancellor at UC San Diego and chief financial officer for both the main campus and Health Sciences.

As CFO for Health Sciences, he oversees the financial health of the School of Medicine, all academic and clinical departments, and UC San Diego Health Physician Group.

As a vice chancellor, he is the senior executive officer accountable for the university's annual budget of $5 billion, including a human resources function supporting 29,000 faculty and staff; a housing, dining and hospitality division serving 15,000 students and faculty; and other critical functions, including information services and real estate.

Prior to joining UC San Diego, Mr. Ouillet was vice president of finance, resources and operations at University of British Columbia (UBC) in Vancouver, Canada. At UBC, he helped the university absorb the impact of the global financial crisis and declining public funding by identifying and realizing annual savings and new revenues through collaboration with faculty. Previously, he served as vice president of finance for Best Buy International and Best Buy Canada.

Collaborating with the senior leadership team, Mr. Ouillet focuses on the financial sustainability of UC San Diego and ensures that the university's financial and human resources support institutional priorities. His joint appointment between the general campus and Health Sciences allows him to drive interdisciplinary synergies across the academic, research and clinical missions of the University.

Mr. Ouillet has a Master of Science degree from the University of Maryland, and a Master of Business Administration from INSEAD (European Institute of Business Administration). He is also a Certified General Accountant.