Rina Davison
Assistant Vice Chancellor, Health Sciences Administration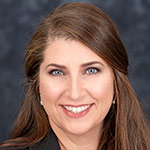 Rina Davison is the assistant vice chancellor for health sciences administration at UC San Diego. In this role, Rina oversees the major academic, research and business operations within the School of Medicine. She serves as a strategic partner in key initiatives related to health sciences business affairs.

She is committed to supporting UC San Diego's academic mission and vision for the future. Ms. Davison oversees several academic business areas, including academic and education affairs administration, basic biomedical research administration, clinical and translational research administration, business contracting, business resource management, planning and general operations.

Prior to her current role, Ms. Davison worked at UC San Diego's Department of Cellular and Molecular Medicine for 26 years, and she was the department business officer for nine years. She was responsible for the administrative management of space, finance, human resources, academic affairs, and facilities.