John M. Carethers, M.D.
Vice Chancellor, UC San Diego Health Sciences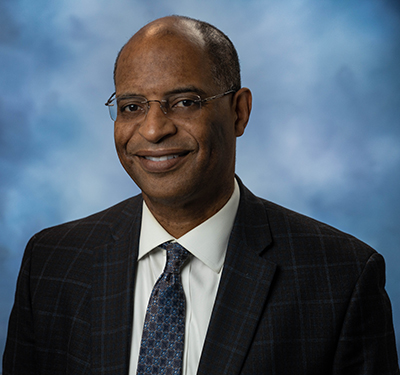 Dr. John M. Carethers is vice chancellor for Health Sciences at University of California San Diego. In this role, he leads the School of Medicine, Skaggs School of Pharmacy and Pharmaceutical Sciences, Herbert Wertheim School of Public Health and Human Longevity Science and UC San Diego Health.

A distinguished physician-scientist and leader in the field of gastroenterological research and treatment, Dr. Carethers' clinical and research interests include familial colon cancer syndromes, mechanisms of tumor progression, DNA mismatch repair and colorectal cancer disparities. 

Dr. Carethers joins UC San Diego from a 13-year tenure at the University of Michigan, where he served as the C. Richard Boland Distinguished University Professor and the John G. Searle Professor and chair of the Department of Internal Medicine. 

Prior to that, Dr. Carethers spent nearly 15 years at UC San Diego School of Medicine, eventually serving as chief of the Division of Gastroenterology. One of his many accomplishments as division chief was securing the inaugural National Institutes of Health-funded Gastroenterology Center Grant that allowed the division to grow scientifically and partner with other local institutions, such as the La Jolla Institute for Immunology, Scripps Research Institute and Sanford Burnham Prebys. 

Dr. Carethers earned his medical degree from Wayne State University School of Medicine in 1989, completed his residency in Internal Medicine at Massachusetts General Hospital in 1992 and his gastroenterology fellowship at University of Michigan in 1995. 

On the national scene, Dr. Carethers has served as the president for both the Association of American Physicians and the American Gastroenterological Association. He served as chair of the Minorities in Research Council of the American Association for Cancer Research (AACR), developed and co-chaired the programming for the eighth and 10th Science of Cancer Health Disparities conferences, and commenced and contributed to the inaugural (2020) and subsequent (2022) AACR Cancer Health Disparities Report and its presentation to the United States Congress. He is an elected member of the National Academy of Medicine.

As vice chancellor, Dr. Carethers drives the overarching strategy for all of Health Sciences, working with the chancellor, campus and health system leadership on expanding UC San Diego Health's clinical enterprise, fostering research collaborations, enhancing educational opportunities and expanding philanthropic participation. His collaborative approach, deep expertise and leadership continue to expand and diversify the global prestige and distinction of our university's health sciences.